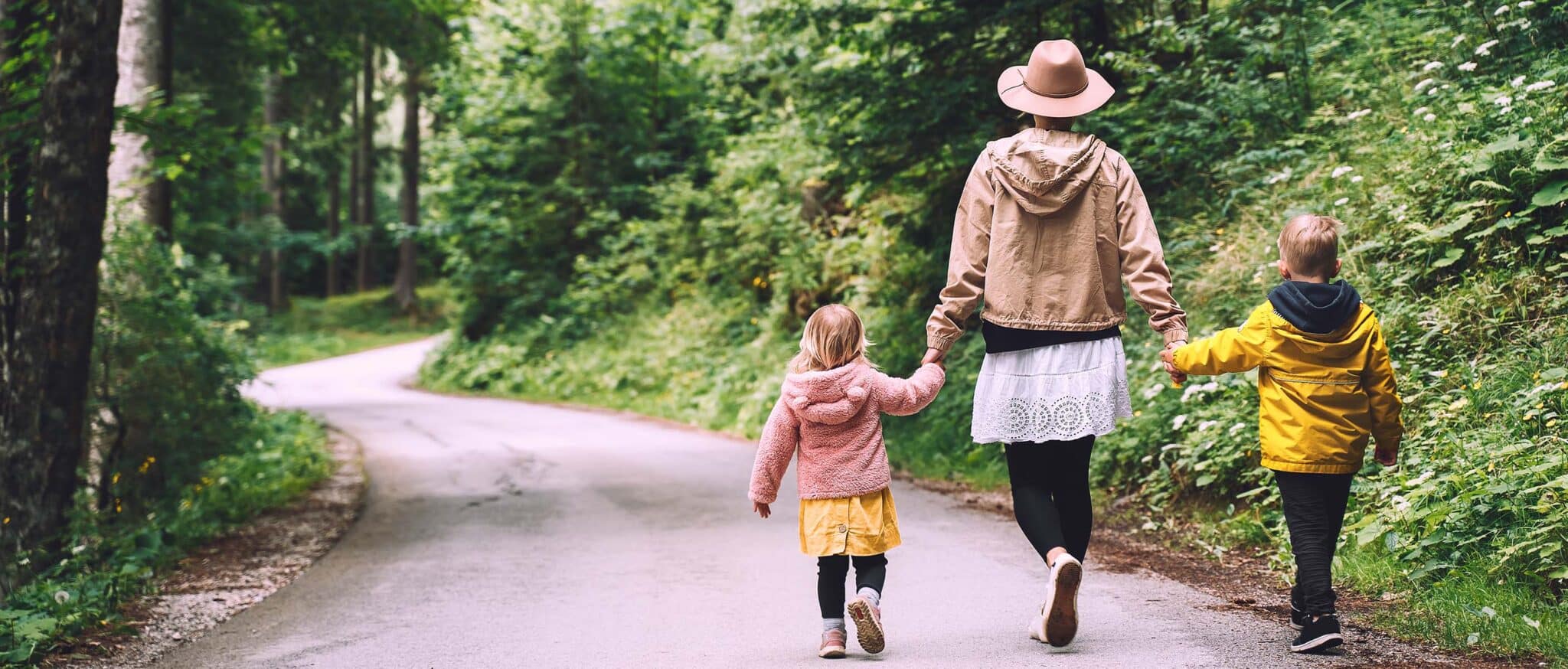 As you move out of summer mode: vacations, sports clinics and day camps, and into fall, it's a great time to introduce new activities and routines for you and your family. Fall is the time to breathe in the cool air, throw on your favorite flannel and go outdoors. If you're looking for some free fun activities to do with your family this fall, I've got some tips for you.  
1) Use your area parks and trails
One wonderful and inexpensive way to spend the day outside is at one of our area parks. From playgrounds to trails, frisbee golfing to golfing, our Metro Detroit area is full of amazing parks and trails that offer many activities that are great for your family. Our parks can give you a full day of things to do with picnic areas, educational nature centers, and a long list of seasonal activities.  
I want to challenge you to find one trail and walk it with your kids without distractions. A great conversation starter could be asking your kids this question: "What is one thing you are looking to accomplish this school year or by the end of the calendar year?" Crunching through fallen leaves on long walks with my family are some of my favorite memories from my childhood! My mom and dad were very adamant that my brother and I spend time outside everyday no matter the weather. Their motto is "There is no bad weather, only poor clothing choices." 😊
Here are a few parks and trails to check out: Stony Creek Metropark, Wolcott Mills Metropark, Rochester Municipal Park, Bloomer Park, Bald Mountain, Columbus County Park, Macomb Orchard Trail, and Paint Creek Trail. 
2) Visit A Farmer's Market & Make Dinner
Another fun thing to do is find a farmer's market, stand, or cider mill and choose some in-season produce to cook and eat together! Early fall is full of great produce in Michigan and the options of in-season produce are bountiful. Sharing a meal with loved ones is a wonderful way to create connections and memories between generations! Going to a farmer's stand on Saturday morning with my dad was a Fall ritual. We would go and find local ingredients for our Sunday dinners. Even though I am married and out of my parent's house, I still like to hold on to the tradition of a wholesome Sunday Dinner. One of my favorite Sunday dinners is a grilled flank steak with green beans, roasted sweet corn, and thick slices of tomatoes. If I am feeling ambitious, I might make an apple crisp with some sweet local apples! 
A few of my favorite farmers stands: Goike's (26 Mile & Schoenherr), Rochester Farmers Market (Downtown Rochester), Kutchey's (26 Mile & Romeo Plank)
My favorite cider mills: Blake's (Armada, MI), Yate's (Rochester, MI), Panckiewicz's (Casco, MI)
3) Start New Routines
As your kids head back to school, and routines are new, Fall is a great time to incorporate things that may have been lacking over the summer. One thing that will connect your entire family is finding time each week to spend time together to deepen your faith. How you ask? By going to church and learning about Jesus. Summer vacations and relaxed schedules may keep us away from church, but sharing a routine of going to church each week and then scheduling family faith time will not only grow your faith but your connection as a family.  
Growing up, my family would go to church together every Sunday at 8 am. We did this to grow in our individual faith walks, and to help each other grow in the Word. Now, my husband and I go to church together and each week we talk about how we can focus on one thing from the message during that week. We also pray together before our dinners. These simple weekly and daily routines are the parts that keep us steadfast as the week gets hectic. One of my favorite worship songs says, "I may not know what the day may bring, but I know Who brings the day." Being able to spend time resetting our perspectives helps us connect with each other and to deepen our faith.